This is the day! Y'ALL.
It's open!
My much-requested, drooled-over, fast-results getting, Connect Method Parenting group, Tribe is available for you. The doors are now OPEN!
You'll be walking on air when you parent after joining Tribe.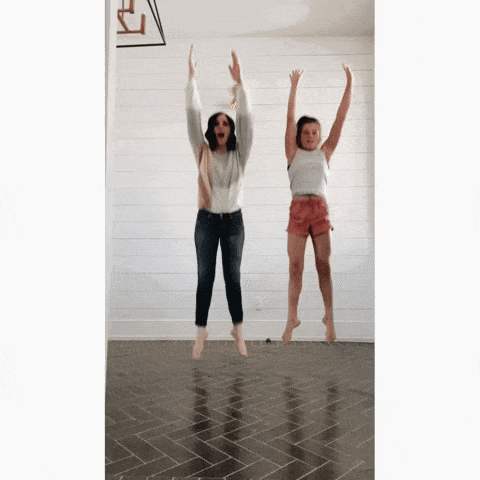 Tribe is going to help you feel…
Powerfully Persuasive (your kids are gonna WANT to listen)
Magnetically Connected (create awesome relationships with your children)
FUN & Enjoyable (like you always thought you would)
AND BEST OF ALL PARENTING WILL BE…
Humming and Feel Smooth (you'll know exactly what to do no matter what the kids are up to)
There's proof – review from Tribe Members like you…
Here are just a couple more I quickly pulled out…
My kids are finally listening to me. -Marie
Now I know what to do when they are fighting. I used to panic…not anymore thanks to CMP. -Michele
I'm enjoying parenting like I thought I always would. -Angela
I never knew it was possible to parent without punishments. I was skeptical at first…but it works! -Jill
What's Tribe all about?
Tribe is my program where we learn then implement Connect Method Parenting IRL.
I'll walk you through:
The Art of the Start: What to do when your child is having a BIG emotion so you can help them heal and create a deeper connection with them.
The Seamless Segway: How to move from frustration (because the kids aren't listening, the house is a wreck, bedtime is lasting forever, fill in the blank here with whatever lights your frustration on fire) to feeling calm and getting the kids to want to cooperate.
The Magic Element: That turns interactions into experiences that create trust and make your child feel safe.
The Power of Play: Play is one of the most underutilized and impactful parenting tools. Start using play with your kids to shift the behavior.
The "WHO" you're being with your kids vs the "HOW" you deal with their behavior. This distinction is going to make all the difference as you work on reducing the conflict and chaos in your home.
Tribers who have been deep diving with me on CMP for a while have said:
It's "epic" and "life-changing."
It's transformed how I parent
It's now easy to see how to handle any behavior or situation that comes up with my kids
Inside Tribe, I teach Connect Method Parenting via live weekly zoom classes and recorded courses. Come live or listen to the recordings as a video in our student app or as an audio-only in our private podcast feed.
What you won't see on the Tribe info page (but the first 13 registrants will get):
A hardcopy workbook (mailed to you via USPS) to go along with an 8-Week Implementation Cycle we're about to kick off on February 14th. (This is my 13-year-old and I working on shipping off workbooks to all the current Tribe members on Saturday.)
In this book, you'll get all the deets you need to stop using those dreaded bribes, ultimatums, and punishments to handle your child's difficult behavior. It's like the parenting instruction manual we never got…seriously BRILLIANT!
And, because you'll be an insider Triber, you'll be getting access to bonus classes we'll be running the week of Feb 21st.
In these bonus classes, you'll find out:
3 connective approaches to dealing with melt-downs (and other big emotions)
The "well-intentioned" mistake of talking instead of tapping into the power of play to shift behavior and how to use PLAY to start getting more cooperation in a peaceful fun way.
Simple words you can use when your child is acting out that help you set a limit and stay connected.
How to milk and exponentially multiply the connective power of every interaction you have with your child.
My "secret sauce" of knowing exactly what to do no matter what your kiddo is doing.
Only the first 13 parents get the Connect Method Parenting book mailed out to them.
AND when you join Tribe by February 7th, (and are one of the first 13) I'll throw in a little something extra in your box…just as a way of giving you a proper warm howdy welcome into the group!
PLUS as soon as you purchase Tribe you'll get instant access to Cultivate which is a course you can move through at your own pace. Inside those courses, there's gold that's changed the trajectory of so many parents' lives.
"Joining Tribe and learning about Connect Method Parenting and then implementing it has been the best thing I've done for myself as a mom. It's changed the trajectory of my life and the relationship I have with my kids." -Julie
Only the first 13 people who join Tribe get the 150-page workbook that will make implementing CMP so easy mailed straight to their door. (I wish I could send them out to everyone, but I only have 13 left from the order I just sent out to current Tribe members…the printing company sent me a few extra which is good news for you!).
Ready? Start Connect Method Parenting NOW!
Want to watch a little video about CMP?
If you're still on the fence and want to know a bit more before signing up check this training out: CMP Workshop
It's day one of a three-day training. (I'll send you day two tomorrow…unless you're like nah I'm just ready to do this.)
xoAndee
ps-if you're wondering what the difference between traditional corrective parenting and connective parenting is then check out my CMP training HERE
pps – I love hearing from you, and I read every comment that comes in. I mean it, hit me back and ask me any questions you have about Tribe, CMP, or whatever. I'm all ears.